I keep getting the same questions from both Doctor Who fans and those who have no idea what's going on, so I thought I'd write a journal entry about this project. It's a bit silly to write a separate FAQ section for this, but I really need a place to link back to whenever I'm asked something about this series of drawings.
WHAT'S A JOURNAL OF IMPOSSIBLE THINGS?
It's a dream journal featured in the Doctor Who episodes
Human Nature
(3x08) and
The Family of Blood
(3x09). In this two-parter, the Doctor rewrote his biology and became human in order to hide from the Family of Blood. The Doctor's human persona John Smith kept a journal where he wrote down and drew things he saw in his dreams, which were actually memories of his adventures as the Doctor.
The original prop journal was created by artist Kellyanne Walker and the text was provided by Paul Cornell.
SO WHAT THE HELL ARE YOU DOING?
My aim is to draw my own version of the Journal. I intend to draw all the pages from the original in my realistic style. I do not have a specific order in which I draw those pages. It's all a bit of a mess, really.
I use graphite pencils and black coloured pencils and my usual drawing tools. Sometimes I add watercolour or coffee stains, sometimes I scan my drawings with 'accessories' like paperclips, sketchbook ribbon and random notes. The text is written in black ink, I try to make the handwriting look as sloppy as possible.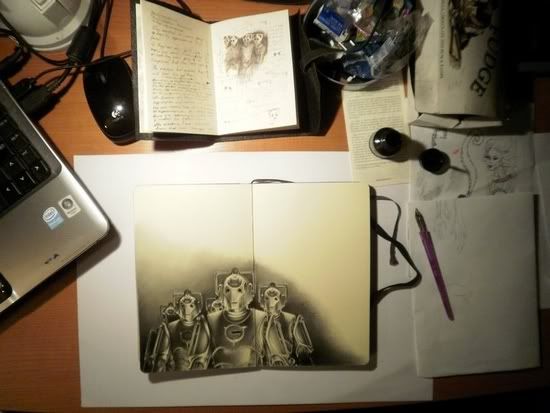 WHERE DOES THE TEXT COME FROM?
I get the text and the prompts for the pages from
there
.
I CAN'T READ IT, WHAT DOES IT SAY?
I don't know.

The handwriting in the original journal is messy, so I try to make it unreadable as well.
HOW DID THIS PROJECT START?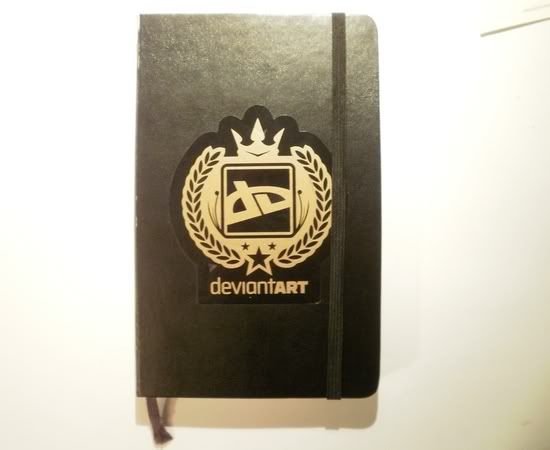 It started exactly a year ago. I'd previously bought myself a Moleskine sketchbook in December 2009 and I wanted to draw something there to try it out. So I started with those sketches: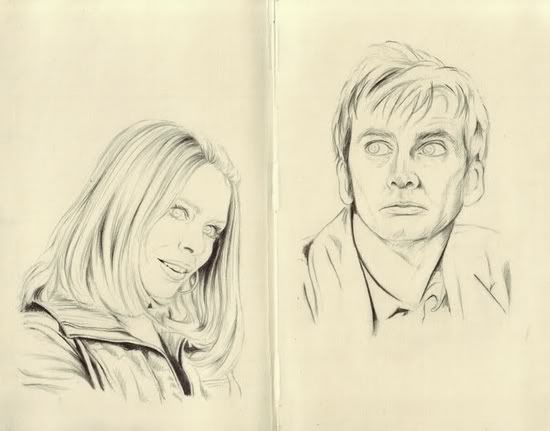 I messed up the Doctor and Rose looked a bit plain without a background, so I decided to scribble some random text from
A Journal of Impossible Things
(as much as I could decipher from the screencaps) all over the page. The first pages I drew were a bit clumsy and aimless, since I didn't have my own copy of the Journal back then and I had no idea that it would turn into an actual series of drawings. It just happened. I now wish I hadn't drawn other things in this sketchbook and put a sticker on it, but what you gonna do...

ARE YOU GOING TO DRAW THE PAGE WHERE...?
If it's in the journal, then yes. As I said, I don't have a specific order, so you just have to wait.
BUT YOU'RE STILL GOING TO DO THE PAGES WITH ALL THE DOCTORS?
Yes, but since my style is very detailed, I'll probably have to draw them separately, one Doctor per page. And 10 portraits is a helluva lot of work, if you ask me, so I'm gonna leave them last. I also need to see whether I have enough pages. I sometimes mess things up and then I usually glue the pages together, so each screw-up leaves me less pages to draw on.

WHAT HAPPENS WHEN IT'S DONE? CAN I BUY A PRINT?
Nothing, I guess. To be honest, I wouldn't feel comfortable selling fan art prints. I do this strictly for fun, so I haven't really thought about selling my drawings. But we'll see. I'm not going to sell the Moleskine, that's for sure. I love it to bits.
CAN YOU SEND ME THE PAGES WITHOUT WATERMARKS? IT'S FOR PERSONAL USE ONLY, I SWEAR.
Sorry, but no. It's just too much work and I don't always have the scans at hand.
I hope this covers the basic stuff. I'll add extra information to this FAQ section in the future if it becomes necessary.
All the journal drawings I've done so far can be found here:
sheldonsands.deviantart.com/ga…